Providing Patients with Same-Day Restorations Using CEREC
Dr. Bill Stofer understands the inconvenience patients face with a traditional crown, which typically takes two separate appointments to create. Because we value your time as much as your smile, we now use a revolutionary tool that mills permanent crowns in about one hour. CEREC (Chairside Economical Restoration of Esthetic Ceramic) is an innovative system that can craft porcelain restorations while you wait. As a result, qualifying patients can leave our Warsaw, IN, office with a fully functional smile.
What is CEREC?
CEREC is a CAD/CAM (computer-aided design and computer-aided manufacturing) system that can digitally plan, design, and fabricate:
CEREC can help you avoid the need for temporary restorations, which can crack, chip, or fall out altogether.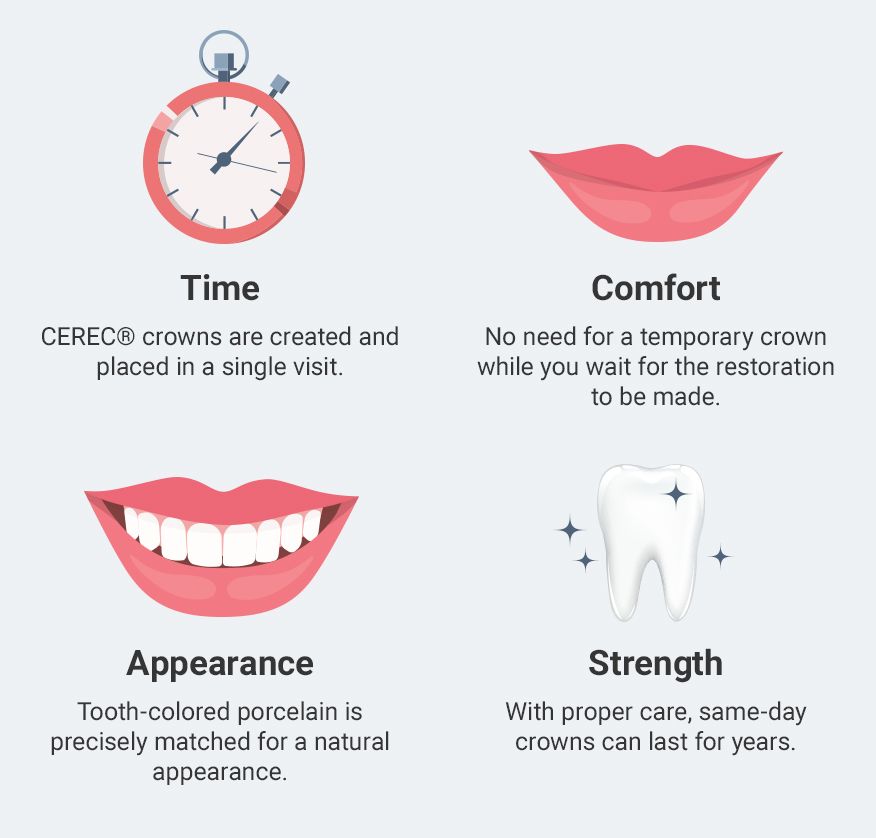 Improving Your Treatment
CEREC allows us to improve the entire treatment process for our patients. Patients can benefit from a more convenient, comfortable experience.
Convenience
Allocating time for the dentist not once but twice can be a challenge. Using CEREC, we can streamline your treatment process, so you can spend less time in the dentist's chair and more time sharing your smile.
Because we value your time as much as your smile, we now use a revolutionary tool that mills permanent crowns in about one hour.
Comfort
Digital technology provides highly accurate results and a much more comfortable alternative than traditional putty impressions.
A Relaxed Environment
While you wait for your restoration, you can enjoy the amenities of our office, including cozy chairs and a fully-stocked coffee bar. You will be surrounded by friendly team who can answer any questions you may have about your treatment.
Designing Your Restoration
To craft your restoration, we will begin by taking high-resolution 3-D images of your smile. These enable us to view the position of your teeth and the structure of your bite. We can use these scans to create a digital model of your restoration. We will carefully select the shade of material that yields the most realistic results for your smile and make any modifications to ensure your restoration fits comfortably and securely. Once we are satisfied with the shape and size of your restoration, the model will be sent to our on-site CEREC milling unit. In a matter of one to two hours, your crown, bridge, inlay, or onlay can be custom-crafted out of a block of medical-grade porcelain.
Placing Your Restoration
When your restoration is complete, we can check the fit before bonding it in place. With a full, complete smile, you can once again eat and speak without hesitation.
Advanced, High-Quality Care
You no longer have to avoid the care you need because you simply do not have the time. Repairing a chipped or decayed tooth can not only improve the appearance of your smile but also protect you from more widespread damage. Contact us online or call us at (574) 269-1199 to learn more about same-day restorations or other services we provide at our practice. Our team is here to guide you through each stage of your treatment.