If you pine for a straighter, more symmetrical smile but want your teeth to remain free of the conspicuous wires and brackets associated with traditional orthodontics, Invisalign® may be the answer. Repositioning teeth into a more aesthetically pleasing arrangement using discreet, transparent aligners, Invisalign® offers the best of both worlds.
At Dental Solutions, featuring the experience of Dr. William B. Stofer, we believe every patient, regardless of age, should be presented with an option to straighten their teeth in a method they feel comfortable with. Our practice offers Invisalign® to our patients in Warsaw and surrounding communities. Let us help you explore the benefits of this treatment during a consultation by scheduling an appointment today.
How Does Invisalign Work?
Unlike traditional orthodontics, Invisalign®'s effectiveness does not rely on metal wires and brackets but on a nearly invisible technology - clear, plastic aligners that fit around teeth. During an examination, you can learn whether you are a suitable candidate for Invisalign®. 3-D imaging is used to design a comprehensive treatment plan, as well as provide a preview of how your smile will look post-treatment. It is important during this time that patients work cooperatively with their care provider to develop realistic expectations of how their mouth will look and feel differently after treatment is complete.
Molds of your teeth will be taken, and a set of customized plastic, removable aligners will be prescribed to gently and gradually move teeth into their desired positions. As your teeth move, one set of aligners will be replaced with the next in the series every two weeks or so. Each patient's needs vary, but treatment typically lasts between six months and two years.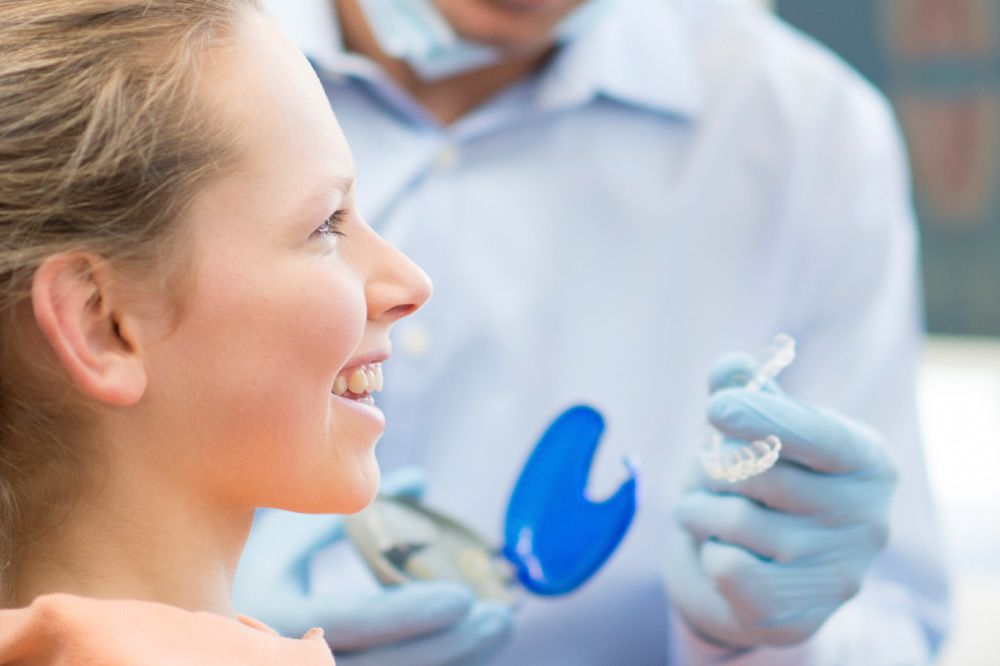 Am I a Candidate?
Nearly everyone who enters our Warsaw office seeking the cosmetic benefits of Invisalign is a good candidate for Invisalign treatments. When determining your candidacy for Invisalign, Dr. Stofer examine your smile to determine if you have:
Gapped teeth
Crowded teeth
Overbite, underbite, or crossbite
Crooked teeth
Overlapping teeth
Candidates should be in good oral health. Candidates should also be willing to wear the aligner trays for the mandatory 20 to 22 hours each day. Many individuals request Invisalign treatments as a more comfortable alternative to metal braces. For cases of severe teeth crookedness, Invisalign may not be the best treatment option.
Benefits of Invisalign
Invisalign offers a number of benefits over traditional orthodontics, including:
Discreet treatment: Invisalign®'s transparent aligners are nearly invisible during use, meaning you can confidently wear them throughout the day without worrying whether everyone is staring at your orthodontic appliance.
Comfortable fit: The aligners used to move teeth lack the metal brackets of traditional braces that can snag and irritate soft tissue.
Lifestyle compatibility: While patients are encouraged to wear their aligners for the majority of the day and at night, Invisalign® can be removed before eating, flossing, and brushing, as well as for special occasions.
Fewer appointments: Periodic check-ups will be performed to assess your progress, but Invisalign® does not require adjustment appointments like traditional braces.
No dietary restrictions: Metal braces require patients to avoid certain foods that could be caught in wire and brackets. Individuals who undergo Invisalign treatments have no nutritional restrictions, although it is always prudent to avoid overconsumption of candy and junk food.
In addition to the many benefits appreciated during use, the ultimate goal of Invisalign® is simple - to provide wearers' with a straighter, more uniform smile they can be confident in. Our experience with this type of technology has resulted in a consistently high rate of patient satisfaction post treatment.
Treatment Timeline
Once you have been established as a candidate for Invisalign, Dr. Stofer will take scans or x-rays of your teeth. Molds may also be taken. These images will be used to manufacture your custom Invisalign trays.
After several days or a few weeks at most, your custom trays will arrive.
Dr. Stofer will observe you place your first found of trays to ensure that they fit snuggly. He may also give you general advice at this time. The total length of your treatment will depend on the number of trays that arrive. Most Invisalign treatments last for 12 to 18 months.
Each tray is designed to be worn 20 to 22 hours per day and for two to three weeks. Throughout your treatments, Dr. Stofer will schedule check-ups to ensure that your treatments are going according to plan. Each new aligner is designed to be a little straighter than the preceding tray. As you place each new tray, you will likely feel pressure on the teeth that are being moved into better alignment.
At certain points during your treatment, Dr. Stofer may place tooth-colored buttons on certain teeth so the aligner trays can better grip the teeth. If teeth crowding is an issue, a minimally invasive process called interproximal reduction (IPR) may be used to create space for your teeth to move more freely.
Once your treatments are complete and you are 100 percent satisfied with your cosmetic results, a retainer will be manufactured using a mold or digital image of your straightened teeth. This retainer should be worn at night to ensure that your teeth do not move.
Daily Use
Always insert your aligners from the front teeth then work back toward your molars. Gently push your aligner using your fingers until the tray fits snugly against all of your teeth. This ensures proper "seating" of your aligner trays. Avoid biting as a means of placing your aligners.
Invisalign trays must be worn for a minimum of 20 to 22 hours per day. Failure to comply with this requirement may result in unnecessary discomfort while placing your trays because your teeth may slightly revert back to their less desirable positions while your trays are not placed. Failure to wear your trays for the required time risks lengthening your treatment timeline. If you lose or damage your trays, notify our office immediately.
You may remove your trays while eating, brushing, taking photos, or for other elective reasons. Your trays should be cleaned with a toothbrush twice a day, preferably in the morning and at night. Avoid using toothpaste when cleaning your trays, as it can leave a white residue. Instead, we recommend using the Invisalign Cleaning System, gentle liquid soap, or retainer-cleaning products.
Enjoy a Straighter Smile
It's never too late to achieve a straighter smile that you can be fully satisfied with. Invisalign patients have repeatedly attested to the treatment's life-changing effect, ability to boost confidence, and dispel embarrassment over crooked teeth. Dental Solutions believes everyone deserves a smile they are happy with and we are here to help. To determine whether you are a suitable candidate or learn more about this cosmetic procedure, contact our Warsaw office online or call (574) 269-1199 today.