Are you bothered by crooked teeth, but dread the thought of wearing braces?

Let Dental Solutions in Warsaw, IN, design an Invisalign® treatment plan to give you the smile you want without uncomfortable metal braces.
Teens and adults alike love the comfort and convenience of Invisalign, the nearly invisible treatment for straighter teeth.
If you want a straighter, more attractive smile, but want to avoid the wires and metal brackets that come with traditional orthodontics, Invisalign at Dental Solutions in Warsaw may be just what you are looking for.
Both traditional orthodontics and Invisalign can improve your smile. But Invisalign's smooth, comfortable, and nearly invisible trays let you smile throughout treatment and avoid the difficulties that come with metal braces. Invisalign offers the best of both worlds.
Invisalign offers a number of benefits over traditional orthodontics, including:
Discreet Treatment
Invisalign's transparent aligners are nearly invisible during use, meaning you can confidently wear them throughout the day without worrying whether everyone is staring at your mouth full of metal.
Comfortable Fit
The aligners used to straighten your teeth are made of smooth, medical-grade plastic molded to fit your teeth precisely. There are no metal brackets and no metal wires, so there's nothing that will snag or irritate the soft tissue in your mouth.
Fits Your Lifestyle
While you need to wear your aligners for the majority of the day and at night, they are removable so that you can eat, floss, and brush your teeth easily. You can remove your aligners, which are also called "trays," for special occasions.
Fewer Appointments
Periodic check-ups will be performed to assess your progress, but trays do not require the numerous adjustment appointments that are necessary with traditional braces.
Eat What You Like
Braces require patients to avoid foods that are likely to get caught in the wires and brackets of traditional braces. With Invisalign, there are no off-limits foods or drinks.
Easy to Care For
Cleaning is as simple as taking a brush to the plastic trays. However, most people find brushing and flossing around braces is both difficult and time-consuming.
Unsure If Invisalign Is Right for You?
Schedule a Consultation to Find Out
Are you tired of having crooked teeth but unsure if Invisalign is right for you? Schedule a consultation and let Dr. William Stofer at Dental Solutions in Warsaw, IN, assess your smile and provide answers that are right for your situation.
Whether you are a teen, the parent of a teen, or an adult ready to take the next step, we're happy to explain your dental options. To help you get the smile you want, we offer flexible financing and can help you arrange a payment plan that works for your budget.
Leave us a message, call, or request a consultation. We serve Warsaw and the surrounding area.
A Patient-Focused Practice ... and It Shows
5-Star Reviews
Greatest dental practice on the planet!! Don't go to those fake mall places where you get a new trainee every visit.
View On Google
Dr. Bill is the best dentist I've ever been to. His staff is very friendly and professional. Dental Solutions is a top notch facility and I will be a patient there permanently.
View On Google
Each Custom Tray Fits Snugly & Comfortably
How Does Invisalign Work?
Simplicity at Its Finest
Unlike braces, Invisalign's effectiveness does not rely on metal wires and brackets but on a nearly invisible technology — clear, plastic aligners that fit around teeth. During an examination with the dentist, you can learn whether you are a suitable candidate for Invisalign. We use 3-D imaging to design a comprehensive treatment plan, as well as give you a sneak-peek at how your smile will look post-treatment.
Molds of your teeth will be taken, and a set of custom, removable aligners will be prescribed to gently and gradually move teeth into their desired positions. As your teeth move, one set of aligners will be replaced with the next in the series every two weeks or so. Each patient's needs vary, but treatment typically averages between 12 and 18 months.
Can Invisalign Solve My Problems?
Nearly every patient who enters our Warsaw office seeking to cosmetically straighten their teeth is a good candidate for Invisalign treatments. When determining your candidacy for Invisalign, the dentist will examine your smile to determine if you have:
Crooked teeth
Gapped teeth
Crowded, overlapping teeth
Overbite, underbite, or crossbite
Candidates should be in good oral health. Plus, they should also be willing to wear the trays for the mandatory 20 to 22 hours each day. If you require preparatory treatment, we can meet your needs in our office.
Many patients are attracted to Invisalign's reputation as the more comfortable and discreet alternative to traditional braces. Unfortunately, in cases of severe misalignment, Invisalign may not be the best orthodontic method. If you are not a good candidate for Invisalign, the dentist can let you know what other orthodontic procedures, such as braces, would help you get the smile you want.
'The staff at Dental Solutions are top notch. They treat their patients like family. I am so glad I am a patient there.'

Julie DeWeese
Treatment Timeline for Invisalign
The Simple Steps to a Better Smile
Most Invisalign treatments typically last 12 to 18 months.
Millions of Patients
Have Benefited from Invisalign
What Are You Waiting For?
It's never too late to achieve a straighter smile and dispel embarrassment over crooked teeth. Dental Solutions, serving Warsaw and the surrounding area, believes everyone deserves a smile they are happy to share.
A Few Simple Rules ...
for Using Your Aligners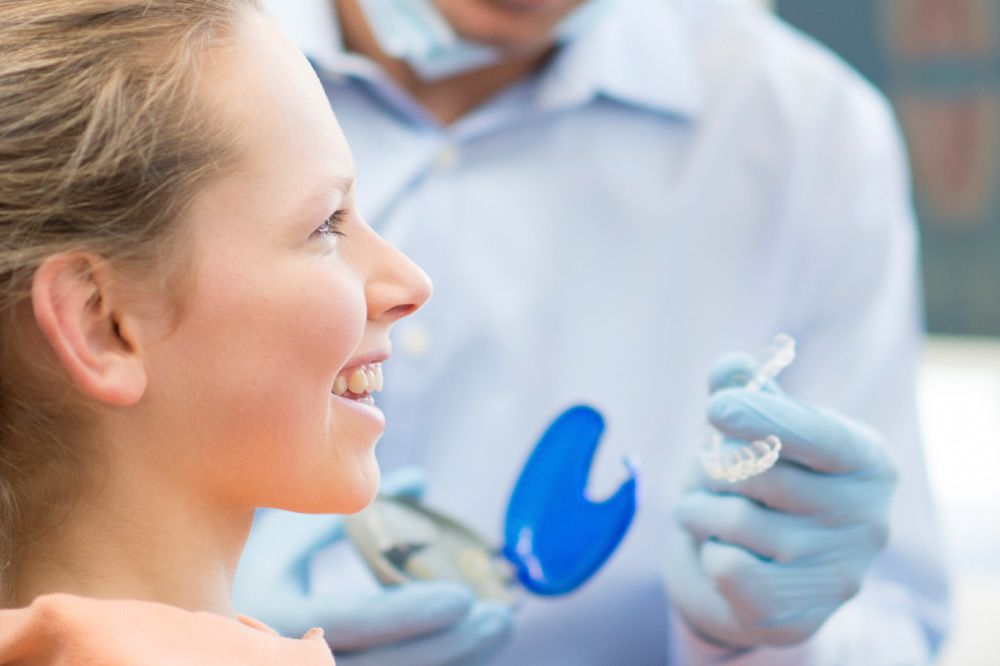 It is important that patients work cooperatively with their dentist to ensure the best results. They should also have realistic expectations about what their smile will look like after treatment. Here are some common questions about wearing and caring for Invisalign aligners:
How to Place the Aligners
Insert your aligners starting at the front and working back toward your molars. Gently push your aligner using your fingers until the tray fits snugly against all of your teeth. This ensures proper "seating" of your aligner trays. Avoid biting as a means of positioning the tray.
How Long Should I Keep My Aligners In?
Invisalign trays must be worn for a minimum of 20 to 22 hours per day. Failure to comply with this requirement may result in unnecessary discomfort once you wear the aligners again. Failure to wear your trays for the required time also risks lengthening your treatment timeline. You may remove your trays for short periods while eating, brushing, taking photos, or for other special occasions.
How Often Should I Clean My Trays?
Your trays should be cleaned with a toothbrush twice a day, preferably in the morning and at night. Avoid using toothpaste, as it can leave a white residue. Instead, we recommend using the Invisalign Cleaning System, gentle liquid soap, or retainer-cleaning products.