Professional Teeth Whitening vs. Over-the-counter Products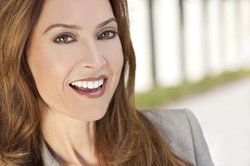 Tooth discoloration is one of the most common complaints among patients, and results in the single most popular cosmetic dental procedure. Namely, teeth whitening offers simple yet stunning benefits to multitudes of patients each year, giving people the opportunity to smile confidently once more.
With the trend of teeth whitening having grown so popular, many products have become available to consumers, allowing them to whiten at home through a variety of methods. However, not all whitening treatments provide the same benefits, and some may be more trouble than they're worth. In order to help you make the most satisfying and effective decision for your smile, our Warsaw dental clinic offers the following information on professional whitening treatment vs. over-the-counter products.
Over-the-counter Whitening
Over-the-counter (OTC) whitening products can be appealing for a few reasons: they are cheap, convenient, and readily available to any consumer. Moreover, whitening products now come in multiple forms, such as strips, mouthwash, and gel-filled trays. It's easy to understand why someone may try these options, but the quality of the products themselves often leave much to be desired.
First, and most importantly, OTC products simply don't have the efficacy of professional treatment. Even the most powerful store-bought whitening gels still only contain a concentration that is one half or less than professional gels. Even with multiple applications, these products cannot remove the deeper and darker stains that can be addressed through your dentist.
Additionally, the one-size-fits-all approach of OTC products tend to result in a poor fit for everybody. When whitening trays are not customized to fit your mouth, the gel is likely to leak out onto gums, resulting in uneven whitening and possible damage to soft tissues. Even the most careful customers will simply not achieve the same safety, effectiveness, or precision achieved by professional treatment.
Professional Teeth Whitening
When you visit our office for professional teeth whitening, you benefit from treatment that is personalized to your needs and preferences. After examining your teeth and consulting you, we will help you choose a whitening option that will give you the best results while minimizing any discomfort. Specific benefits include:
Variable concentrations of gel: Depending on the severity of discoloration and your teeth's sensitivity, we can match you with an appropriate concentration of bleaching agent. Multiple whitening sessions can be utilized, if necessary.
Quick treatment: As easy as it may seem to buy a product and use it at home, professional treatment is comparable in efficiency. A single whitening session can often be performed in an hour or less, requiring no anesthesia and little preparation.
Strengthening gel: Although whitening is a safe procedure, it tends to deplete some of enamel's minerals in the process, resulting in temporary sensitivity afterward. For patients who are concerned with this, we offer MI Paste™to strengthen teeth and reduce sensitivity.
At-home option: If you have sensitive teeth and would prefer to whiten more gradually, or wish to whiten on your own time, our professional-grade whitening gel is available in a take-home kit, coupled with a customized tray to ensure a proper fit.
Candidates for Teeth Whitening
Most patients who suffer from discoloration can easily undergo professional whitening with little risk or concern. If restorative dental work is also needed, patients should first speak with their dentist about which procedure should be completed first. Alternatively, patients with very sensitive teeth should ask their dentist what they can expect from whitening and how they may reduce sensitivity after treatment.
If you wish to achieve a brighter smile and think teeth whitening may be right for you, contact us today to inquire further and schedule a consultation with one of our experienced cosmetic dentists.
Related to This