Implant-Supported Crowns: A Lifelike and Durable Solution
Implant-supported crowns are a stable, long-lasting, and natural-looking treatment for patients who have a single missing tooth. This type of restoration is supported by a dental implant surgically inserted into your jawbone and offers better results than traditional restorations. The doctors at Dental Solutions in Warsaw, IN, can place a dental implant and create your restoration in our office. Replacing your tooth swiftly can help protect your other remaining teeth and long-term oral health.
Implant-Supported Crown vs. Traditional Dental Bridge
Tooth loss can occur from decay, injury, a failed root canal treatment, and other complications. Although losing a tooth is not uncommon, how to treat it differs amongst patients. While some may choose to ignore the issue, this can lead to serious oral health concerns, such as shifts in alignment, dental pain, and bone loss. In the past, traditional dental bridges were one of the only solution available to replace missing teeth. These restorations are designed with a false tooth fused together with two dental crowns on each side that are supported by your remaining teeth.
With advancements made in modern dentistry, missing teeth can now be replaced with dental implants and a customized dental crown. An implant-supported crown is a single dental crown supported by a dental implant, surgically inserted into your jawbone. Because the restoration and implant post can replace the entire tooth from root to crown, it offers superior benefits compared to a traditional bridge, including permanent support, natural-looking aesthetics, and stimulated jawbone health. In addition, this type of restoration requires no modification to your remaining teeth, preserving more of your healthy smile.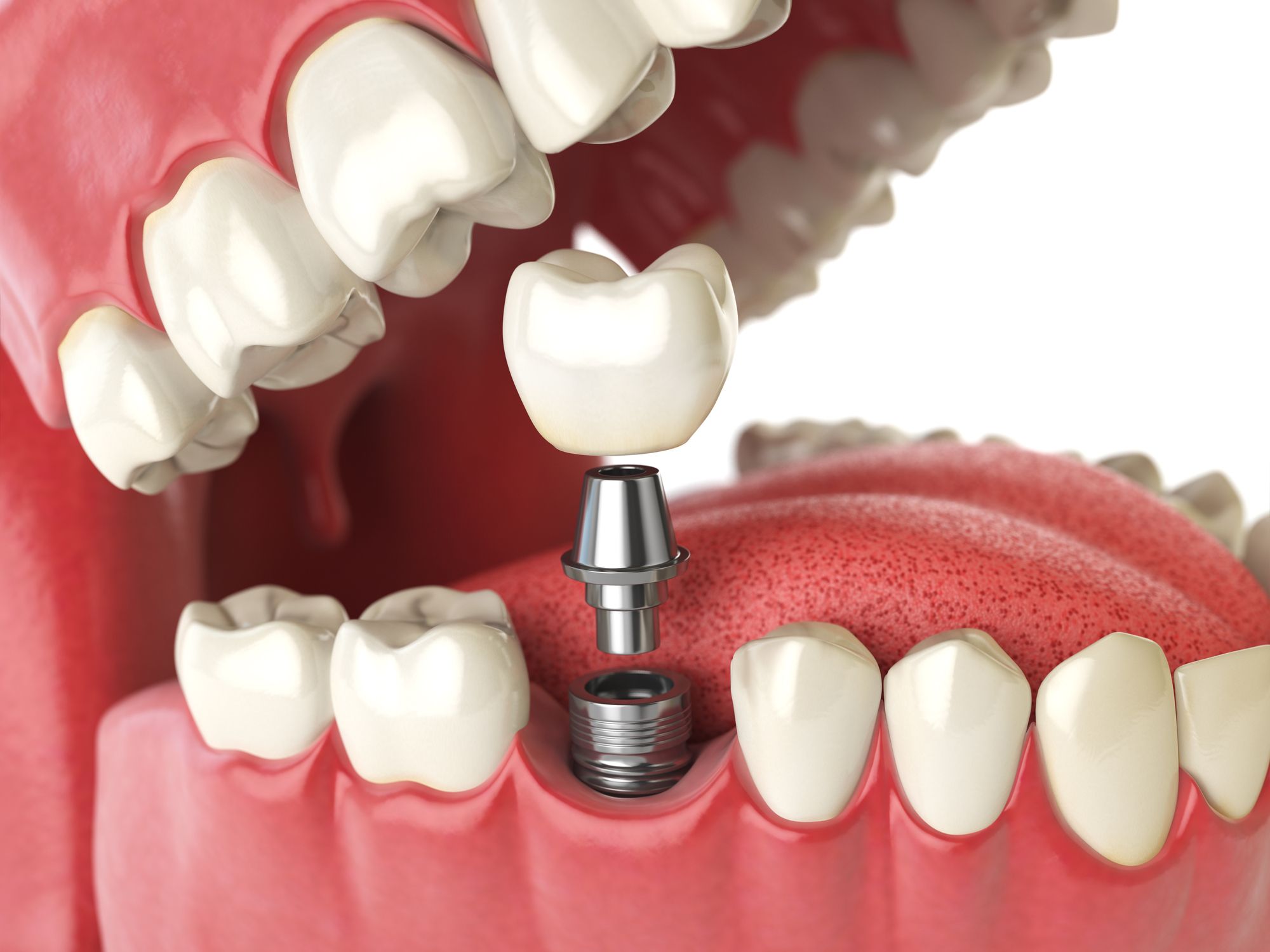 How Your Implant-Supported Crown is Placed
During your initial consultation, one of our doctors will examine your remaining teeth and jawbone to ensure you are qualified to undergo dental implant surgery. If you are a good candidate, the doctor will plan and perform dental implant surgery to ensure your implant is placed with precision and appropriate sedation methods. After the procedure, your jaw and implant post can fuse together during a process known as osseointegration. While healing takes place, you will wear a temporary restoration if you are self-conscious about the gap.
When you have fully recovered, we will attach an abutment to connect a custom crown to your implant post. With the abutment in place, we can take highly detailed scans to create a dental crown that will be customized to match your exact measurements and the natural aesthetics of your smile. Once your restoration is completed to your satisfaction, we will attach it to the dental implant, restoring the aesthetics and function of your smile.
We can provide the customized treatment you need to restore your smile with timely treatment to restore your oral health and function.
Caring for Implant-Supported Restorations
It is vital to maintain your oral health after receiving an implant-supported crown. Proper hygiene for dental implants is very similar to habits you should maintain with your natural teeth. You will need to brush and floss regularly. Similar to traditional bridges, you will also floss around and under your false tooth to ensure that no food articles become trapped under the restoration.
Fill Gaps in Your Smile
If you have a single missing tooth, please contact our office online or by calling (574) 269-1199 today to schedule your consultation and learn more about the benefits of an implant-supported crown. We can provide the customized treatment you need to restore your smile with timely treatment to restore your oral health and function.