If you are suffering from tooth pain, damage, or missing teeth, it is time to seek restorative dental care.
Dr. Bill Stofer provides modern restorative dentistry to prevent and repair issues that affect the health and function of your smile.
Learn more about the benefits of treatment at our Warsaw, IN, practice...
What Can Restorative Dentistry Do for Me?
There are many advantages to regular restorative dental care at our Warsaw, IN, practice...
Preserve Oral Health
Your teeth must be maintained with regular care to ensure good longterm oral health. With biannual dentist appointments, Dr. Stofer can protect your natural teeth, help you avoid uncomfortable procedures, and save you money by preventing the need for more costly treatment.
Relieve Pain
Cavities, cracks, chips, and infections can all cause dental pain, making it difficult to chew food and enunciate. Painful conditions require immediate care from a dentist in order to prevent extractions and to restore maximum functionality to your smile.
Boost Confidence
Issues that affect your oral health can also negatively impact the appearance of your teeth. Dr. Stofer offers restorative dentistry not only to keep your smile healthy, but to help it look brighter, fuller, and more youthful.
The office staff were great. Tammy responded quickly to my dental emergency. Dr. Stoffer and his assistant were very kind and helpful. I needed more work than I expected but the doctor explained it clearly. He took his time and I never felt rushed. I highly recommend!
View On Google
I always like going here. The staff is awesome and always friendly and likes to laugh and joke with you. I went to day for a cleaning and Julie was amazing and friendly plus very professional. Great place to go even for your children !
View On Google
Don't delay your dental care...
If you are missing one or more of your natural teeth, dental implants are undoubtedly the most durable, natural-looking solution available. Dental implants are small titanium posts that replace the tooth's natural root and provide a stable foundation for crowns, bridges, and dentures. During a simple surgical procedure, a post is embedded in the jawbone and topped with a temporary prosthetic. After the post fuses with the bone through a process called osseointegration, dental implants are topped with a custom-made porcelain restoration.
Dental crowns are used to fully repair and protect the healthy portion of a weakened, cracked, infected, or aesthetically flawed tooth. Crowns can be affixed on top of a natural tooth or attached to dental implants to replace missing teeth. Dental Solutions uses the latest technology in dentistry which allows the creation and placement of beautiful dental crowns.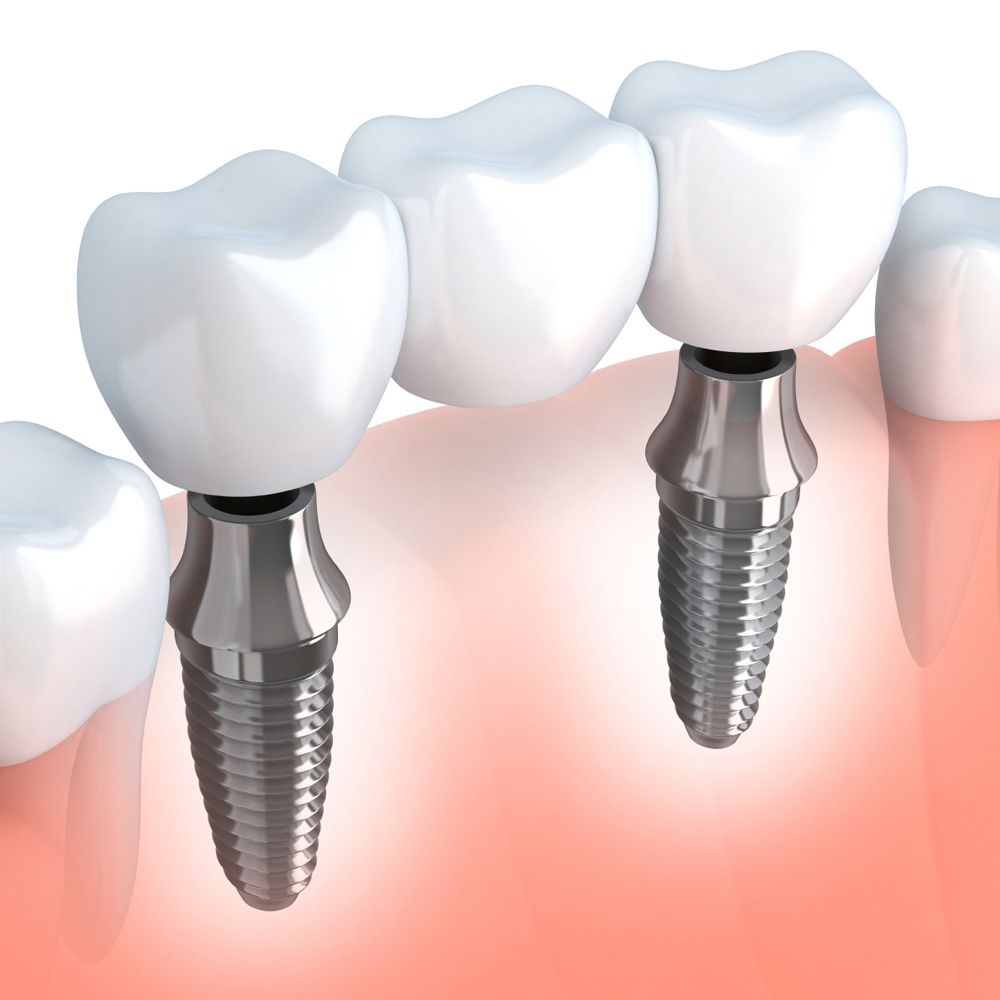 A dental bridge may be an affordable solution for you if you have gaps in your smile resulting from multiple neighboring missing teeth. Also called a partial denture, a dental bridge fills in these gaps with beautiful, porcelain restorations that repair oral function. A traditional removable dental bridge attaches to nearby teeth restored with dental crowns, or you can have a fixed bridge cemented into place for added security. An increasingly popular option is a dental bridge retained by implants, which offer strong, supportive roots for your replacement teeth.
Dentures
For patients suffering from complete tooth loss, dentures provide a full prosthetic replacement for the upper or lower dental arches. Traditional removable dentures are custom made to fit your mouth and stay in place through a suction piece that rests on the gums. Modern implant-supported dentures are fixed in place offering patients maximum convenience and security.
If you have a tooth compromised by minor cavities or decay, the dentist can provide a tooth-colored filling to restore your oral health. A filling is made from composite that is color-matched to blend seamlessly into your smile. As a result, this restoration not only strengthens your tooth but enhances its appearance.
Many patients who could benefit from dental implants do not qualify because of significant jawbone recession. However, with a bone grafting procedure, Dr. Stofer can boost your candidacy for dental implants. A bone graft will increase the density and volume of the jawbone for implants at a future appointment.