Like any other investment, your dentures require proper care in order for you to experience the best possible benefits. Dr. Bill Stofer in Warsaw, IN, has provided this guide to proper denture care in order to help you save you considerable time, money, and hassle. He invites to learn the right ways to clean, store, and maintain your dentures so they can serve you for as long as possible. Although all dentures will need to be replaced at some point, the better your denture care routine, the longer you can expect your dentures to last.
How to Clean Your Dentures
Your dentures are in constant contact with everything you eat and drink. They are also exposed to naturally occurring bacteria in your mouth. If you do not clean your dentures, they will begin to stain and may develop an unpleasant odor. They can also start to wear down faster.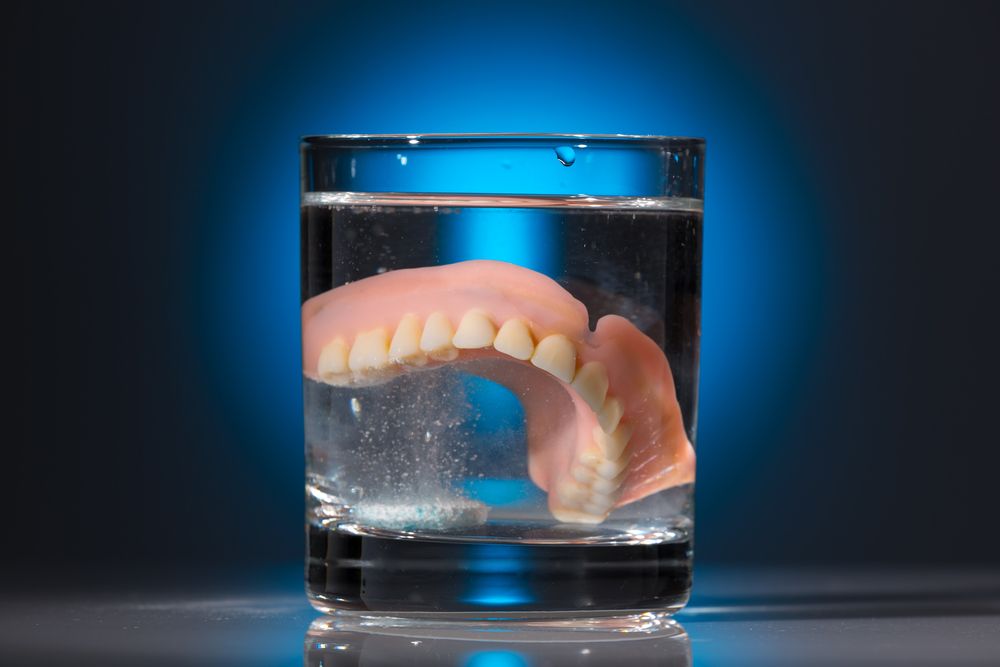 Whether you wear a conventional or implant-supported denture, you will need to keep your appliance clean. If you wear a traditional denture, remove it and rinse it off to remove any lingering adhesive cream or food particles at least once per day. Then, clean it gently using a wet toothbrush with soft bristles, but do not use toothpaste, which can damage your denture.
For the best results, never rinse your dentures with hot or boiling water.
If you wear implant-supported dentures, simply brush your teeth as you normally would, but again, do not use toothpaste. You should also use special floss to clean under your denture and between your dental implants. In general, implant-supported dentures should be brushed twice and flossed at least once daily.
Removable dentures should be taken out and submerged in a special cleaning solution overnight. This will help them to retain their shape and become thoroughly clean. Be certain to rinse your denture thoroughly after removing it from the solution the next day.
It is also important to understand how not to clean your dentures:
Do not use a whitening toothpaste on your dentures, and do not attempt to bleach them.
Do not use anything with hard bristles to clean your dentures.
Hot water can damage your dentures. For the best results, never rinse your dentures with hot or boiling water.
More Tips for Caring for Dentures
In addition to keeping your appliance clean day after day, follow these helpful hints to prolong the lifespan of your dentures:
Clean your gums when you clean your removable dentures. Gums need to be kept free from debris and bacteria, too. Stimulation from a soft-bristled brush can keep your gums healthy.
Do not try to remove stains from your dentures. If you experience any staining, get in touch with us. We have sophisticated means of removing denture stains that will not damage your dentures.
Store your removable dentures in the same spot every evening. This will help you to be less likely to misplace them.
Handle your removable dentures with care. Although they are built to be sturdy, they can be bent or otherwise damaged with improper handling. For example, dropping your dentures can cause significant damage.
Attend your scheduled dental appointments with Dr. Stofer. These appointments allow him to monitor your oral health and intervene if you have an issue.
Call us for repairs. It doesn't pay to take the do-it-yourself route when dentures become damaged. In fact, you will likely cause further damage. Get in touch with us and we will arrange to repair your dentures as soon as possible.
Contact Dental Solutions Today
Do you have more questions about denture care? Contact Dental Solutions online using our appointment request form or call us at (574) 269-1199 to schedule a consultation.