Repair Damage with Tooth-Colored Fillings
Fillings can repair teeth compromised by mild to moderate damage or decay. In the past, patients were limited to metal amalgam fillings, which are highly visible. To provide our patients with more options, we offer composite fillings made from tooth-colored resin material. These are not only more appealing than amalgam, but they also form a stronger bond with the tooth. At our Warsaw, IN, practice, Dr. Bill Stofer can carefully select the shade of composite that blends seamlessly into your smile.
What Is a Filling?
A dental filling can restore the strength and structure of a tooth that has sustained mild damage. It replaces compromised tissue and seals the tooth from harmful bacteria. Cases that feature moderate damage may be better suited to inlays and onlays. These extend over a larger portion of the tooth. If you have extensive decay, a dental crown is typically the best way to repair your smile. A crown can provide additional support to prevent fractures.
Benefits of Composite Fillings
At Dental Solutions, we care about the health and beauty of your smile, which is why we recommend tooth-colored fillings. Composite material not only blends with your smile, but it protects the integrity of your tooth. Amalgam fillings change shape with temperature fluctuations, which can jeopardize the structure of treated teeth. Tooth-colored fillings form a strong bond with teeth and maintain a consistent shape. In addition, composite requires less alteration to your natural tooth and, in turn, produces less post-operative sensitivity. Composite fillings can help to keep your smile healthy for years to come.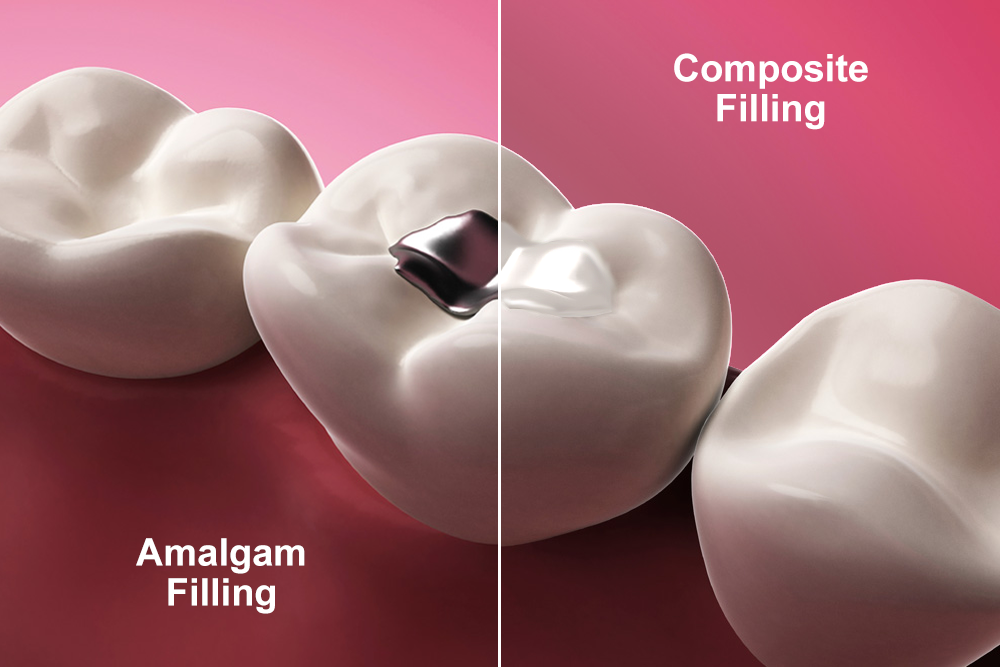 What to Expect
The entire procedure can typically be completed in about an hour or less. To address any discomfort, we can administer a local anesthetic to numb the treatment area. If you are particularly anxious about treatment, we also offer sedation to put your mind at ease.
Tooth-colored fillings are not only more appealing than amalgam, but they also form a stronger bond with the tooth.
The Procedure
To begin, the doctor will gently remove decayed or damaged areas, before cleaning and drying the tooth. The resulting empty space will then be filled with composite resin, which is hardened using a special curing light. Your doctor can then check your bite to make sure the restoration does not disrupt your occlusion. Any excess material can be trimmed for your comfort.
Caring for Your Filling
After treatment, it is common to experience mild sensitivity. Any discomfort can be managed with over-the-counter pain medication, such as ibuprofen. It is important to maintain a good oral health routine to prevent further decay. We recommend brushing your teeth twice a day and flossing once daily. In addition, you should visit our office for regular checkups, so we can assess the structure of your filling.
Protect Your Smile
Left untreated, dental damage and decay can become more widespread and require more extensive restorative treatment. If you have a cavity, crack, or chip in your smile, contact us online or by phone at (574) 269-1199 to schedule your consultation with one of our knowledgeable doctors at Dental Solutions.